This school year the kids went off and did great things, they learned a bunch, they were at the top of their game! We played a bunch of gigs, and continued to work on things. Things! Ok? THINGS!
Harvest Fest, in Little Rock.
If this is wrong, I don't wanna be right.
Kid ready for the BrauHaus!
After years of naggin, Zac turned the rest of the wood from our back porch into a PICNIC TABLE!!!! Handsome, eh?
"happy birthday Karen" camping!!!
Watch out for these two. They'll kick your shins and take your candy.
A princess at work.
Eureka being brilliant at school again.
This year we invented a new sidekick to the band, "Slim Christmas" and Yuletide Carol rock all your favorite country Christmas songs....(consider for your next Christmas party, okay?)
Arriving at a gig, we look back to see the kids on the edge of the seat. They love coming with us!!!
Eureka worked on her first animation project with Zac, you can see it HERE
This was the year of MUCH snow! We had 8 snow days here in Hot Springs, unheard of! But this picture happens to be in North Carolina, where they also have snow.
He might be bad at the dinner table, but he is an angel in the snow.
This is where the van stopped on the slight incline out of the driveway, out of North Carolina. Looks like we were moving a mattress. Zac had to pull us out with Newt's truck. That made his inner country boy very very happy.
Eureka LOVES this book!
Christmas in Florida is very serious. I turned off the football game to take this picture. As soon as it snapped, they chased me with clubs and slashed my accordion.
Zephyr can fill Zac's chaps.
With the onset of spring, the chicks hatched and the ground thawed once again.
The kids got to play lots of hooky, good fun! In Hot Springs, they cancel school liberally! I love it.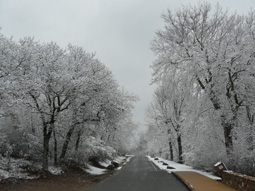 We were hired to play the Embassey Suites employee lecture series. We even got a free room!!!! We loved the cheap cocktails and the kids spent all night going up and down the elevators. Next year the lecture will be about not letting people like us in the hotel.
Our entry with Clayton Blackstock on brainianism in the St. Patrick's Day Parade that is short.
The band even stopped by for a visit! We hung out on the Arkansas Land Yacht in our front yard. It is good to be king!
Heading up the St. Louis Arch! We had a gig up there with the Zoppe's and managed to take in some sights.
The kids in front of the City Museum. Notice bus hanging off top of building. This place is amazing. You must take yourself there.
All of the monkees are NOT in the zoo.
My sweet Dad turned 70 this year, and we were nice enough to let him take us on the Belle of Hot Springs to celebrate.
We were the host of the New Years celebration at The Pantry in Little Rock. Whoo hoo 2011!!!
Zac and Zephyr's birthday party! Whee!!!
Zephyr and Zac's birthday monkee cupcakes made by the talented and beautiful Karen Holcomb. How does she do it?!?!?!??!
The kids all ready for their dance recital! Newt and June were ready also, but mother nature was not. All events were postponed because of those tornadoes that ripped everything all up. So we skipped school and ate ice cream instead.
Easter Sunday Feaster!
These kids are awesome! All ready to spend a long day with Zac and I while we played at Wildwood Park, lucky for us they had corndogs and hayrides. WHew!
First grade spelling bee. Eureka won!!! Go girl!
Everyday is a celebration with JELLO in the house!!!!!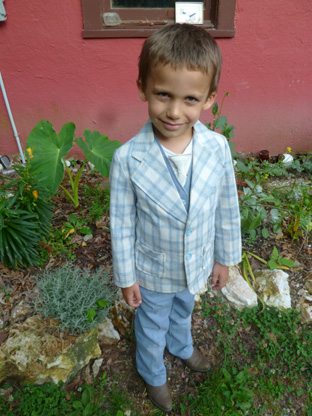 Zephyr in Zac's suit, ready for kindergarten graduation!
Watch out wold, LADIES MAN Zephyr! The only male child in ballet, he knows what is up!! Yeah! Thats my boy!
Eureka. Ready to dance.
BOTH kids got a DiVinci award, I know, you don't know what that is, but it means you are great.
Time for summer, pool parties abound! Have you considered having the itinerants at your next pool party? Zac's helicon BARELY covers his speedo. Whew.