No spring would be complete without a Karen Holcomb cake for Zac and Zephry. Zephyr turned four this year. Zac turned 32 again.
Zephyr's birthday toolbelt, which inspired him to go straight out in the yard and build a chicken shack.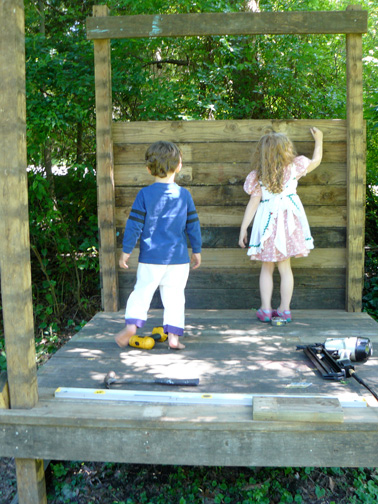 This summer we built a chicken coop with the scrap wood from our rotting deck. Eureka believed the chickens should have kid art to enjoy.
After the chickens came, there were no more ice-cream cones in the coop.
Now we are the hit of the block with the kids favorite pasttime, chicken chasing.
This picture might look exciting, but this was wholesome summer torture to us. You can see a whole page of the well saga, just click HERE!
Our big garden
Fuzzy. Our king rooster.
Garden goods!
My 32nd birthday was this summer as well, another beautiful cake by Karen.
I got a birthday hibiscus bloom this year!!
For my birthday this year, I got to fix everyone a spaghetti dinner. I've finally reached the point in life where you celebrate by doing a bunch of work. But, oh, is it worth it. Especially when your own children whine "i don't WANT sauce on mine."and then cry. For your birthday.
The children sat patiently by while we played a gig in downtown Eureka Springs.
Our trusty old circus wagon found a new home in Malvern, Arkansas this year. I hope the A/C could keep up with Arkansas summer heat. I don't mean to sound callous, but it is no longer my problem!??
One of the many ways to pass the summer here in Arkansas is to buy a Magic Springs pass. We killed many a "too hot to handle" days this summer in the theme park environment.
Round and round. And again and again. The best part of this ride was that the song that was on replay was shorter than the ride.
Zephyr gets tod drive his own car in the otherwordly environment of the Magic Springs. Beats Hot Springs. Zephyr is not allowed to drive in Hot Springs.
The lazy river ride is a great way to get rid of foot fungus. Or to get foot fungus. Or to generally spread bacteria among your fellow park attendees.
It was always hard to tell who was having more fun, Zac or Eureka.
Even at Magic Springs, the paparazzi was always nearby.
We couldn't afford to fly the family out to Wyoming this summer, but we could pretend.
Again, who is in charge here?
When Magic Springs would no longer do, we would come home and eat a watermelon larger than Eureka's head.
We had a visit with the venerable Annastasia Wrokmen this summer in Mississippi.
There is June, trying to introduce our child to sports. Bless her heart, that is gonna be a tough one.
Zephyr, trying to get the cat to play cars with him.
After which, Zephyr fell asleep under June's desk. I guess the warm buzz of the hard drive was soothing.
While in NC, we went raspberry picking.

Raspberries. Up close.
The bucolia had not set in, yet.
July 4th party in NC with Sophie. The crazy nut kid.
Zephyr, eating lunch at the Moore's in NC. The kids spent two weeks in NC with their cousins, the details of which have still not been shared.
When the kids came back, we took them to Crater Diamond State Park as a special treat. They loved it! You could either dig for diamonds in a big clay field (pictured right) or you could enjoy yourself at the water park. Guess which one the kids chose? What brilliant marketer planned that?
We just had a blast digging for diamonds. I know you can't see it here, but it was about 98 degrees. It really brought the family together. The only thing better might have been an ant infestation in Zephyr's boots.
Here is my proud diamond hunting man, home from the kill. We actually did not find any diamonds (weird!) but did get to sift through a lot of clay. (neat!)
We tried to keep our Diamond Hunting Activities to a low roar.
Now in contrast, this is the same day at the water park. In which photo do the children seem happier???
So glad to be done with diamond hunting............
Super glad to be done diamond hunting.
Finished diamond hunting, finished swimming. Ready for pizza.

On days when we can't head for the chlorinated waters of the theme parks, we spray the kids down on the trampoline. Seems to work just as well, and it is a lot cheaper.
Or if you dare, you could go out into nature. Nature! With snakes and everything!!!
Nature's children.
Loading the kids up in the fart trailer full of dirt and driving them around the neighborhood is also a fun way to spent a hot afternoon. And it is safe too!!
We went on a camping trip with Kelly, Cheyenne, Kaolin, and Mayan up to Mammoth Springs on the Missouri border.
As hot as it was, the water was TOO COLD so we hung out at the picnic table instead.
The headwaters of Mammoth Springs
10 minutes out of town we had to stop for a kid puke break....
You take the kids camping, and they hang out on top of the car. Go figure.
or running in circles on the tarp.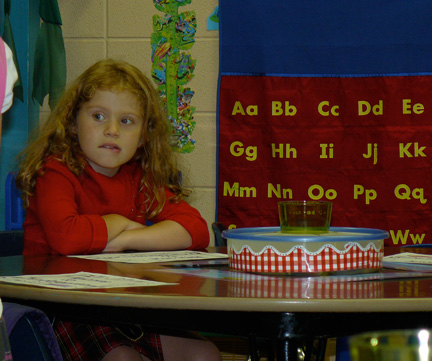 So this year our little Eureka started Kindergarten. She couldn't wait for us to leave.
These kids were on their way to school. First day.
Here is Zephyr at school. I wonder if he found the car selection to his liking. You'll notice here he is scratchin his head, which turned out to be head lice. He went to school on his first day with head lice. That is completely our fault, which the teacher let us know when she called us about 45 minutes later. We had NO idea! Wow!
We solved the problem once and for all two days later by shaving his head.
Now that the kids are in school, we were able to do more productive things, like help our friend Joe get a foundation poured under his fort.
Our friend Mychal came by and made some books in the dining room.