Leaving Seattle we headed out on the Empire Builder through Glacier Park across to Chicago, and then down back to Little Rock! Home at last, 45 days later.
Racing through the Cascades....ZOOM!
And here we are! Glacier National Park, Montana. Teresa and Mike were our gracious hosts.
In the mountains, looking for bears. Getting a bear hug instead.
Ooh, another chilling fourth of July!!
Our big break in Montana was landing a slot at the Shield's Mountian Music Fest. This was the only gig on the train tour played with winter coats and a fire!
Zephyr's dream car!
Three bumps on a log at the big music festival! (Katla's second appearance on the train tour!!)
The Peak of our summer....
Us in the lodge at East Glacier, posing to be sleeping, but looking kind of dead!
Eureka in the teepee in Montana
Dins!
Leaving! the winter! Enough!!!
After leaving Glacier Park, it didn't take long for Montana to turn to flat. Our view, for a long time....
Last view of the Puget Sound.....
In retrospect, we were looking kind of haggard....
Zephyr just started passing out everywhere!
BRRRRRRRRRRRRRRRRRRRRRRRRRRRRRRRRRRRRR!
This was July!!
Next up, Minot North Dakota!
Having a blast???!
Minot had a fine selection of hotels to choose from, we chose this one (for obvious quality reasons)
Pulling our luggage through the lovely town of Minot. Go Zephyr!!
While we were there, we were lucky enough to meet up with accordionist Jerry Schlag, who invited us to join his gig at the nursing home!!
Minot= The Magic City.
While we were there, the kids wanted to go ice skating. Luckily, we'd met Roz and Jason, and they gave us a ride out there!
Yeah! In the air!!
Next up? Minneapolis, Minnesota. 7 A.M.
Minneapolis! Now this is looking more like summer!! Yeah!
Girls reading in the hammock....
We played a summer BBQ in Betsy & Eric's backyard, unfortunately no one showed up. Ok, just kidding, they were all taking picutres. I swear.
The Elworthy's!
Eureka got her ears pierced at the mall!!!
So brave. So cute.
On our way out of town, Eric found the best diner ever! The whole place was green, right by the station in St. Paul.
Arriving in Milwaukee. Or leaving, I swear I can't tell!!
Yeah girl!!!!
Our gig in Milwaukee. Circle A. Neighborhood bar.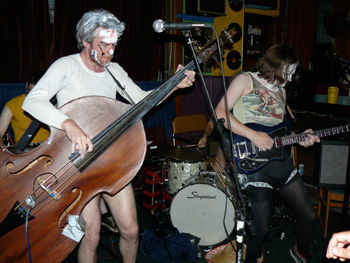 The other band we played with, The Bitter Tears.
Summer swimming in Oconomowac, Wisconsin!
NEXT UP: CHICAGO
The big city! The windy city!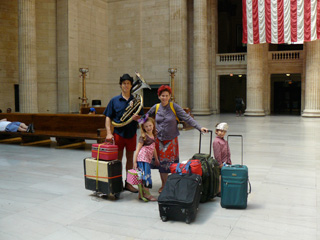 Last stop! Union Station. Hallelujah!!
You can do anything you want to in Chicago. Even keep bees on the roof of your building.
Everything is bigger in the big city!
ZONK!
Our gig in Chicago, at the Honky Tonk BBQ in Pilsen.
Luna and Eureka, on the roof in Chicago!
On the way home, we went through St. Louis for the prettiest sunset...
And back in Little Rock! 3 A.M. just like nothing ever happened.
Before we left town, we planted a massive garden, this is how 45 days of total neglect will do for your homegrown vegetables.
BEFORE
AFTER. I don't recommend this.