Eureka's Train Journal
Eureka's suitcase. 50% stuffed animals. I had to repack, besides, she put something orange in there, and the train tour DRESS CODE was ALL Red, White, and Blue all the time.
Fun, fun, fun!! Little Rock, Arkansas at 3 A.M.
So full of hope! What wild westerly adventure awaits us?!?
Our 11 A.M. arrival in Dallas, Texas. First stop!!
Dallas. Dallas, Texas. Pleased to meet you.
Norman Seaton, the president of the National Accordion Association gave us a great afternoon tour of Dallas, and even took us out for fried chicken!!
Yeah! Eureka is also an Itinerant Local. Aint she good?!!
We didn't end up buying these hats. Damn tourists.
After our 5 hour train ride, missing a night of sleep, and wandering around Dallas all day in the blazing sun, I had to convince Eureka that it was gonna be FUN FUN FUN to hang out while we played at Lee Harvey's on 1/2 price burger night.
Sadie and River came out for the show, but they weren't much help convincing the kids it was cool to stay out late and watch the tuba/accordion.
Catching the bus back to the train the next morning. Dallas only got 24 hours.
Hanging out on the train was good.
Some gig we played in Austin, Texas....
The great peeps we have in Austin! Even though we showed up at this gig, only to have been replaced by lesbian movie night, at least we have friends! I love these friends!!!
Moody's cool bathroom.
Rocks in Austin, Texas.
Western Texas.
The train station in Deming, New Mexico. It kind of reminded me of the great stations of Europe.
Rocks in New Mexico.
New Mexico clothes dryer.
Living Arts Studio in Mimbres, New Mexico. Our gig for this stop in our lives.
This is what you look like when you get in hot springs when it is already over 100 degrees outside. Talk about mellow......New Mexico Mellow.
Stilt walking at Living Arts. Or whatever those things are.
YEAH! The hosts of the 2010 Deming New Mexico stop. Dan and Juniper! And their kids, Simea and Escher. and their friend Quinn. And a few pets here and there, and that great century plant out front. Yeah!!
Next stop, Tucson Arizona. Where's Eureka?
Tucson, we arrived at 10:30 PM, and the kids just couldn't hang. WHATEVER, this was supposed to be a non-stop party.
When we were in Tucson, it was SO HOT that we spent an entire afternoon in a thrift store and let Eureka try on every last pair of high heels that she wanted to. Just to soak up the A/C. That is what Tucson is like in June.
Jake here was our Tucson hero. Hosted us, fed us, let us play at his venue, we hung out, we made scrapbooks, we remodeled his house, we counseled his expecting partner, we put the finishing touches on the baby room, and we fixed the A/C in his car! It was great!!!
Leaving the Tucson train station at 11 PM.
Eureka, soaking in the LA River. So pretty this time of year.
The gig in LA was in Pasadena at a hair salon. I wore my best rollers and Zac curled his mole hair-we pulled out all the stops!
Sunny California!! I mean, smoggy!!
The entrance ramp to the jungle. The jungle being L.A. traffic.
Once again, Zephyr slept through our best performance ever.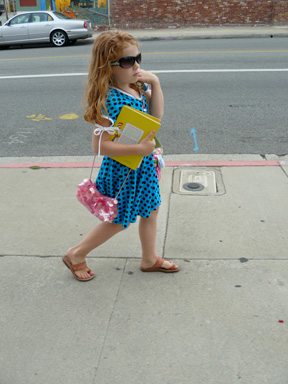 Eureka was instantly famous walking the streets of California.
Zephyr on a nature hike in California.
Malibu!!! The most westerly point on our trip.
Where is Iris? Iris was our host in L.A. Even though it was against the law, she stole her parents car and picked us up from the train station. We owe Iris bigtime.
The lightrail leaving Pasadena was beautifully nestled between two branches of I-10. It is something every child should do, hang out between 17 lanes of interstate.
Back on the train we dug back into our dwindling stash of granola bars. Uno, anyone?
Yolande and I le tting our perms set. She wouldn't let me play until I had my curls just so.
The dudes, snarfing up the free popcorn.
Arriving in San Luis Obispo, CA brought us back with some old friends. Old, because last time I saw this little lady, she was 6.
Ginny and Essie, yeah!!!
Practice in the tobacco free city park in San Luis Obispo, CA
Our gig in San Luis Obispo-one block from the train station.....
What Zephyr was doing with our camera while we were playing....
Have I used this picture yet? Oh my, it is so cute.... Twice isn't even enough.
Our first luggage catastrophe happened in SLO. A broken wheel on the sidewalk back to the train station. Luckily when we arrived in Oakland, our friend Moez had just rescued some luggage from the side of the road and we were able to replace it.
This is one of the curves on the Coastal Starlight line where you can see the front of the train and the back of the train together! WOW! This is somewhere south of San Francisco.
Summer 2010-The Itinerant Locals and their kids spent 45 days on the public rail transportation known in the USA as the Amtrak. The kids got out of school, and two days later left from Little Rock, Arkansas on the 3 A.M. southbound Texas Eagle. The ticket was for 18 stops in 45 days. Here is the story in pictures of the TRAIN TOUR 2010!!